Digidesign digi 001 driver mac os
Sound Drivers for Digidesign Hardware
Digidesign Hardware Drivers for Windows XP
Digidesign Hardware Drivers for Mac OS X
Digidesign Control Panel, Sound Drivers & Output Drivers
For Digidesign Hardware on Mac OS 8 & OS 9 Systems Only

Digidesign® Control Panel
ReadMe (included in download)
Digidesign® Control Panel
ReadMe (included in download)
Digidesign Output Drivers
Digidesign Output Drivers
Digidesign Sound Drivers
Digidesign Sound Drivers
Digidesign Sound Drivers
Apple Sound Control Panel
If you experience download or decoding problems, see the Download Help FAQ
Newer Mac downloads require Stuffit Expander 5.1.2 or higher
Digidesign® Control Panel
The Digidesign® Control Panel provides sound output for Apple's Sound Manager via Digidesign's hardware outputs. These drivers are used to route non-Pro Tools sound such as system sounds, games or other applications through your Digidesign hardware.
Place the Digidesign® Control Panel in your System Folder/Control Panels. (newer Pro Tools installers include an option to install when installing Pro Tools)
(you can do this by dragging the control panel onto your closed System Folder and clicking OK on the dialogue box to place it in your Control Panels folder)


Digidesign®
Once installed, click the Setup Hardware button in the Digidesign Control Panel to configure your hardware.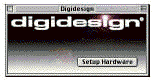 Digidesign Control Panel
The Digidesign Control Panel supports the following hardware on Mac OS 9:
Pro Tools|HD
Pro Tools|24 MIX
Pro Tools|24
Digi 002
Digi 001
Mbox
Audiomedia III
Project II
(If using Pro Tools III hardware, install and use the Digidesign Sound Drivers extension.)
The Digidesign Control Panel requires Mac OS 9.0 thru 9.2.2.
Digidesign Sound Drivers
Digidesign Sound Drivers is a System extension that allows any application that can play sound via Sound Manager to play that audio through Digidesign hardware. Most Macintosh applications that make any sound do so by using Apple's Sound Manager. Apple's release of Sound Manager version 3.0 allowed third-party companies, like Digidesign, to build expansion cards for sound input and output, rather than having sound go in and out of the internal mic or Mac speaker. Digidesign hasn't built expansion cards specifically for Sound Manager 3.0. Rather, we have built software drivers to work as the «glue» between the Sound Manager and our existing high-end audio cards. Version 3.0 of the Sound Manager also has the capability to handle 16-bit, 44.1 kHz, stereo audio. This means you can record and playback CD-quality sound into any application that supports 16-bit audio, including most multimedia applications and games.
Copyright © 1996 Digidesign, A Division of Avid Technology, Inc. All Rights Reserved
*What to do when the Sound or Output drivers do not appear in the Monitors and Sound Control Panel:
The Sound CDev is required to select the Digidesign hardware for sound input/output. Mac OS 7.6.1 and higher doesn't automatically install the Sound CDev in the System Folder, but instead places it in the «Apple Extras/Sound Control Panel folder». To install, drag it onto the System Folder and Restart the computer.
In Mac OS 9.0 and higher, the Apple installer correctly places new and separate «Monitors» and «Sound» Control Panels in the System Folder.
ASIO Digidesign Direct I/O Driver for Mac OS 8/9
Digidesign digi 001 driver mac os
Software Downloads Archive: May 2006 & Earlier Only
Current support information is available at www.Digidesign.com.
Please Note: These pages will not be updated and may contain broken links.
See Download Categories below Featured Downloads for additional sections
Pro Tools Plug-Ins — Information & Downloads for Digidesign & Development Partner Plug-Ins
Pro Tools Plug-In CS Updates Archive (EQ III, Mod Delay II, ReVibe, Smack!, Smack! LE, Sonic NoNOISE)
Digidesign Technical Document Library Archive — Download Acrobat PDFs of Digidesign manuals

Mac OS 10.4 (Tiger) does not included Stuffit Expander. Mac downloads (.bin .hqx .sea .sit .sitx) require Stuffit Expander or other decoding utility. Newer Mac downloads require Stuffit Expander version 5.1.2 or higher. Download the free Aladdin Stuffit Expander for Mac (included with Mac OS X 10.0-10.3, but not with 10.4).

A download form is required to access some Pro Tools downloads. Completion of the download form is not related to registration of the software, hardware, or any other product. For help with plug-in downloads, please see Download Help FAQ #1.
Pro Tools 7 Information
Pro Tools HD 7, Pro Tools LE 7, and Pro Tools M-Powered 7 software are now available. For information about Pro Tools 7, including Upgrades and Updates, please see the following:
Demo Mode with 7.0 Plug-ins
Version 7.0 plug-ins from Digidesign, Access, Aphex, Bomb Factory, Dolby, Drawmer (Dynamics only), Focusrite (d2/d3 only), and Sonic Solutions no longer include time-limited demos. A new system to offer iLok trial licenses is in development. We apologize for any inconvenience.
Special CS Release Versions — Mac & Windows
Index of Pro Tools CS Updates

Pro Tools HD, LE, and M-Powered 7.1cs7 updates for Mac OS X 10.4 and Windows XP added May 9, 2006 (Pro Tools HD 7.1cs7 for Mac OS X Updated on May 17, 2006)
Pro Tools TDM 6.9.3cs4 updates for Mac OS X 10.4 and Windows XP added March 31 (Mac) & April 13 (Win), 2006
Pro Tools TDM 6.9.1cs3 update for Mac OS X 10.3 added September 19, 2005
Pro Tools LE 6.9cs4 & 6.9.2cs4 updates added September 19, 2005
Pro Tools TDM 6.4.1cs4 for MIX systems on Mac OS X 10.3 and Windows XP added July 21, 2005

Index of Plug-In CS Updates

DINR, EQ III, Mod Delay II, Revibe, Smack!, Smack! LE, Sonic NoNOISE
Sonic NoNOISE for HD Accel on Power Mac G5 PCIe added May 31, 2006
DINR 7.0cs1 added December 22, 2005
Mod Delay II 6.7cs1 added September 1, 2005
EQ III 6.9cs3 added August 31, 2005
Featured Mac OS X Updates
Digidesign Drivers for Third-Party Applications
Digidesign Hardware Drivers for Mac OS X, for use with Pro Tools software or as standalone drivers:
Avid Free DV for Mac OS X
Digidesign Plug-In Updates for Mac OS 9
Mac OS 9 Pro Tools 5 Updates
Featured Windows XP Updates
Windows Update Summary:
Digidesign Drivers for Third-Party Applications
Digidesign Hardware Drivers for Windows XP, for use with Pro Tools software or as standalone drivers:
Digidesign Audio Drivers for Windows XP v7.0

Combined standalone installer of Digidesign ASIO Driver and Digidesign WaveDriver for Digidesign hardware without Pro Tools software installed

Digidesign ASIO Driver 6.1.1
Digidesign WaveDriver 6.1.1
Avid Free DV for Windows XP
Digidesign Development Partners
iLok Information & Driver Updates
iLok Usage Guide (748 k)
iLok Information & ILok.com Tutorial Videos (link)
Update Your PACE Interlok & iLok Drivers (link)
Amp Farm
Aphex
ASIO Drivers for Windows XP
AudioVision
Aurora Video Systems
Avid Media Station|PT
Avid Mojo
Avid Pro Tools LE 6.5.3r2 for Avid Mojo
Avid Updates & Utilities
AVoption & AVoption|XL
Bomb Factory Current Plug-Ins
Bomb Factory Legacy Plug-Ins
Chorus DigiRack Plug-In
Command|8
Control|24
Control Surfaces
CoreAudio Drivers for Mac OS X
D-Control
D-Show (VENUE) Console & Standalone
D-Verb
DAE & DSI (DigiSystem INIT)
Digi 001 Factory Updates for Mac OS X
Digi 001 Factory Updates for Windows XP
Digi 002
DigiDelivery
DigiTest
DigiTranslator
DINR
DirectConnect
Direct I/O
Dolby Surround Tools
Dual Processor OS 9 Fix
DV Toolkit for Pro Tools LE
Echo Farm
EQ III DigiRack Plug-in
Focusrite d2/d3
Focusrite Forte Suite
Focusrite Liquid Channel
ICON Integrated Console
Impact
Legacy Products
LexiVerb
M-Audio Driver Updates

MachineControl
Massenburg DesignWorks
MassivePack Plug-In Updates
MasterList CD
Mbox
Mbox 2
MIDI Control Surfaces
MIDI I/O (USB MIDI Interface)
Mod Delay DigiRack Plug-In
MP3 Export & MP3 Option
Music Production Enhancement Suite
OMF Tool
PostConform
ProControl
Prosoniq Orange Vocoder
Pro Tools Application Legacy Updates
Pro Tools|HDpack Updates
Pro Tools 6.4.1 Plug-Ins for MIX Systems
Pro Tools FREE
Pro Tools M-Powered 6.8r2 for Mac OS 10.4
Q1/04 HD 2 Accel & HD 3 Accel HD Pack v6
Q1/04 HD Exchange Bomb Factory Downloads
ReVibe (v1.1cs1)
SampleCell Hardware Mac
SampleCell Hardware PC
Smack! (Mac v1.0.2cs1, Windows v1.0.1cs1)
Soft SampleCell
Sonic NoNOISE (v1.6cs1)
Sound Designer II
Sound & Output Drivers
Storage
StreamManager
SYNC I/O
TC Electronic Master X
TC Electronic TC Tools
Trillium Lane Labs TL Fauxlder
TrackTransfer Utility
USD Setup Utility
Utilities & Links to Third Party Software
VENUE D-Show Console & Standalone
Virus Indigo
VocALign Project
WaveDrivers for Windows Systems
Waves Plug-Ins
Windows XP Pro Tools Updates by System
Xpand! v1.0.1 Updater
For all other current downloads of Digidesign and Digidesign Development Partner plug-ins for Pro Tool|HD and Pro Tools LE systems, please see the following section of the website:
More Downloads and Online Resources
Educational Links We Like
Including Pro Tools QuickTime Tutorials & QuickTips, educational resources, recommended reading, & other websites we like to visit