Аналоги SolidWorks для Mac OS
Dassault Systèmes SolidWorks Corp. разрабатывает и продает программное обеспечение для трехмерного проектирования САПР, программное обеспечение для анализа и программное обеспечение для управления данными о продукции. SolidWorks является ведущим поставщиком программного обеспечения для проектирования 3D CAD.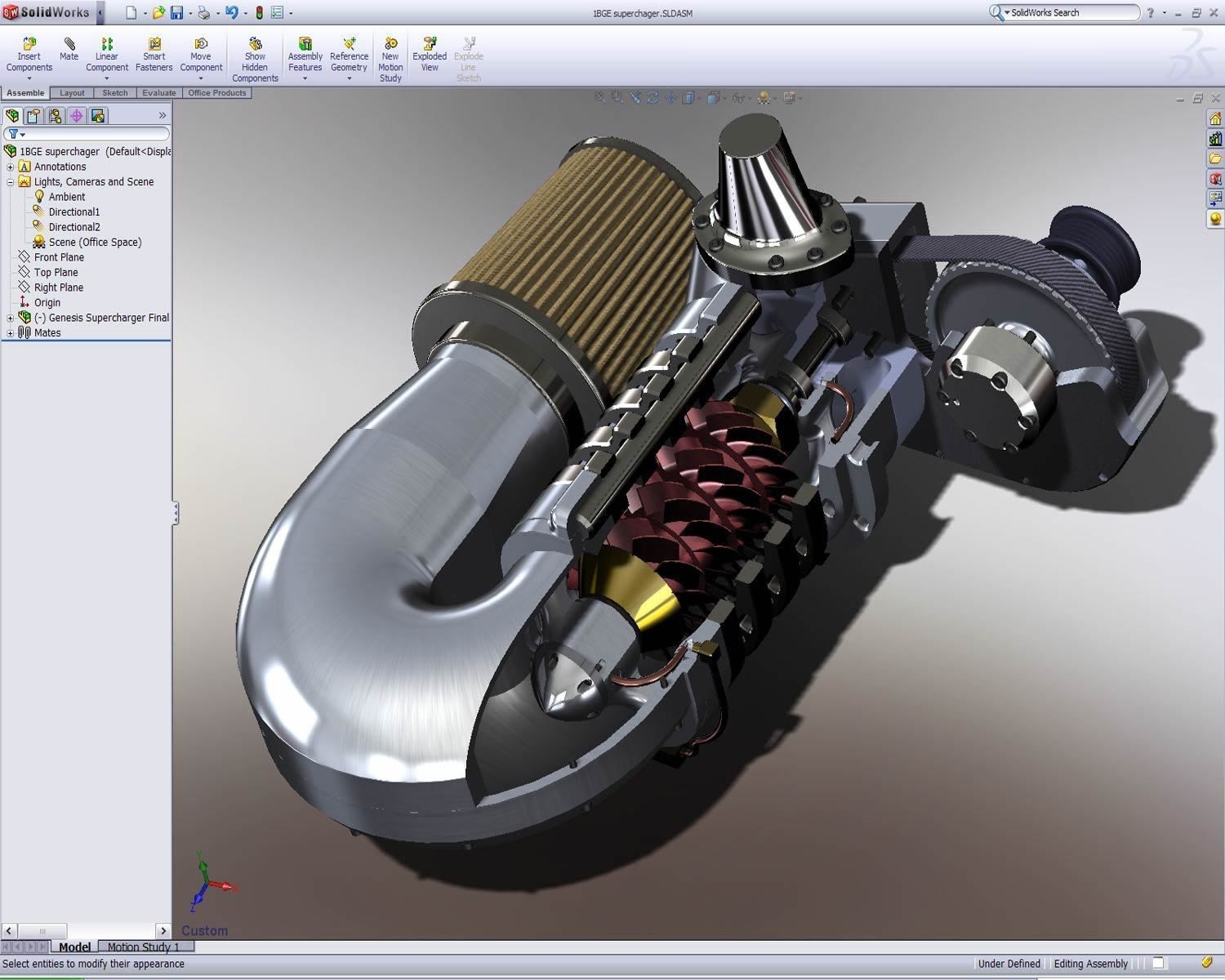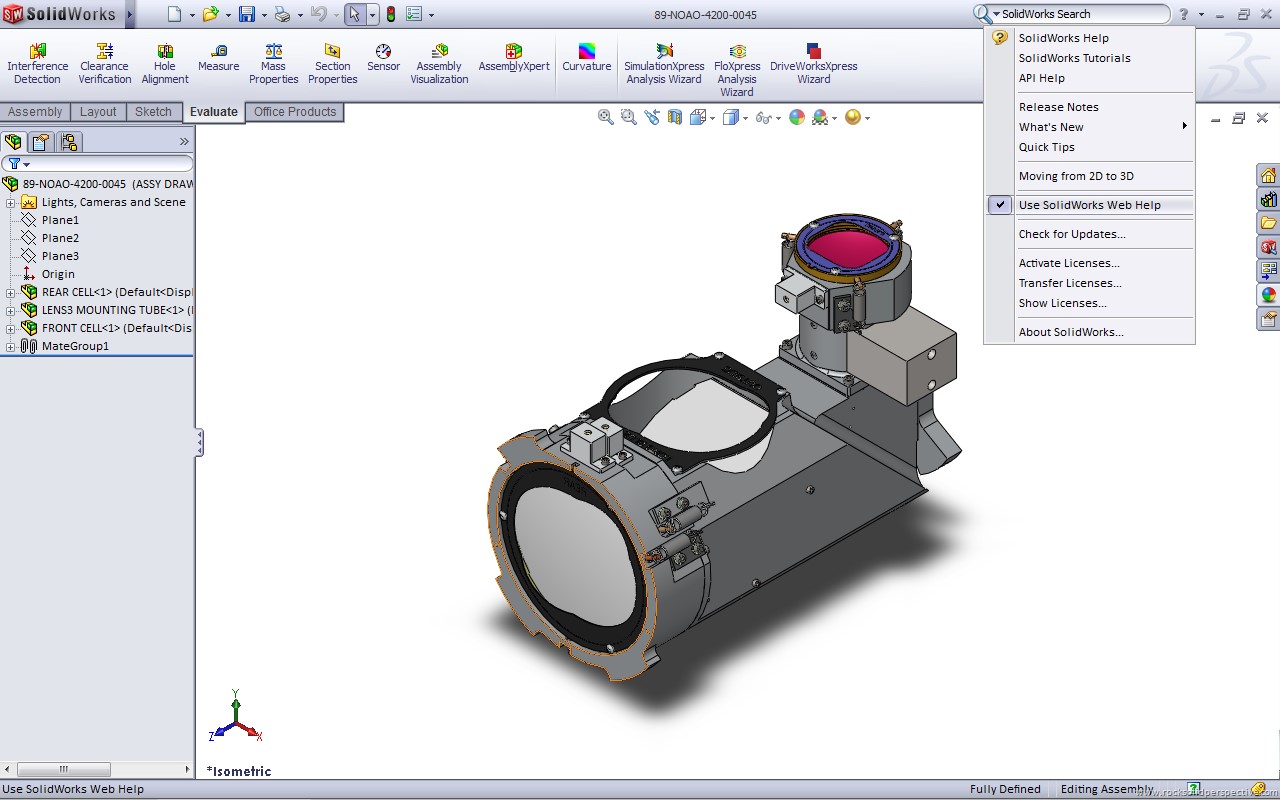 Альтернативы для SolidWorks для Mac OS
Параметрический 3D-моделлер с открытым исходным кодом.
Бесплатная Windows Mac OS
FreeCAD является параметрическим 3D CAD моделлером общего назначения. Разработка эта с полностью открытым исходным кодом (лицензия LGPL). FreeCAD нацелен непосредственно на сферу машиностроения и проектирования изделий, но программа также подходит и для более широкой области применения в сфере проектирования, например, в архитектуре.
Autodesk AutoCAD – это коммерческое программное приложение для автоматизированного проектирования (CAD) и разработки.
Платная Windows Android iPhone Mac OS Онлайн сервис
AutoCAD – это программное приложение для 2D и 3D автоматизированного проектирования (CAD) и черчения – с 1982 года доступно как настольное приложение, а с 2010 года – как мобильное веб- и облачное приложение, которое в настоящее время продается как Autocad 360.
2D CAD – приложение с открытым исходным кодом для Windows, Apple и Linux.
Бесплатная Windows Mac OS
LibreCAD (первоначально QCad, затем CADuntu) – это 2D CAD-приложение с открытым исходным кодом для Windows, Apple и Linux. Он основан на Qt, ведущей кроссплатформенной среде разработки приложений и пользовательского интерфейса.
Мощная платформа САПР с функциями, знакомыми вам по приложениям .dwg.
Мощная платформа САПР с функциями, знакомыми вам по приложениям .dwg. BricsCAD® объединяет передовой 2D-дизайн с интеллектом прямого 3D-моделирования. Для Windows, Linux и Mac.
Интегрированный облачный CAD, CAM и CAE инструмент с возможностью совместного редактирования.
Бесплатная Windows Mac OS
Autodesk Fusion 360 – это программа для проектирования и производства. Сложные продукты можно быстро и легко создать Fusion 360. Начните с использования простых инструментов моделирования, чтобы получить правильную форму, или воспользуйтесь сочетанием клавиш и перенесите существующие данные в проект Fusion 360. Проверьте продукт на работоспособность. Затем подготовьте его к производству путем создания траекторий инструмента или с помощью утилиты 3D-печати.
SOLVESPACE – это параметрическая программа 3D CAD с функциями выдавливания, вращения, объединения и разности.
Бесплатная Windows Mac OS
SolveSpace – программа с открытым исходным кодом для 2D и 3D CAD (автоматизированного проектирования). Это параметрический моделировщик на основе ограничений с простыми возможностями механического моделирования. Разработан Джонатаном Вестхусом.
Autodesk 123D – это набор инструментов CAD для любителей от Autodesk.
Бесплатная Windows iPhone Mac OS
Наряду с более простыми возможностями рисования и моделирования он также имеет поддержку сборки и экспорт STL. Доступна библиотека готовых блоков и объектов.
Onshape – это первая полностью облачная 3D CAD-система. Она работает в веб-браузере и на любом мобильном устройстве.
Условно бесплатная Mac OS Онлайн сервис
Onshape – это профессиональная система САПР – детали, сборки, чертежи – со встроенным контролем версий и совместной работой. Каждый план Onshape (бесплатно для STUDENTS, Professional и Enterprise) предоставляет вам все функции САПР и управления данными без ограничения по времени.
COMSOL Multiphysics – программная среда для проектирования, дизайна и анализа.
COMSOL Multiphysics – это программная среда для проектирования, дизайна и анализа методом конечных элементов, предназначенная для моделирования и симуляции любой физической системы.
TurboCAD – это пакет программного обеспечения с несколькими различными уровнями функций.
TurboCAD – это пакет программного обеспечения с несколькими различными уровнями функций. Он является конкурентом программ Autodesk и используется инженерами, архитекторами и любителями.
Vectorworks – программа для автоматизированного проектирования (САПР).
Vectorworks – это программа для автоматизированного проектирования (САПР), разработанная Nemetschek North America, которая используется для черчения, технического рисования и трехмерного моделирования. Vectorworks предлагает 2D, 3D, управление производством и возможности презентаций на всех этапах процесса проектирования.
Archimedes – это бесплатное программное обеспечение CAD (Computer Aided Design) с открытым исходным кодом.
Бесплатная Windows Mac OS
Archimedes – это бесплатное программное обеспечение CAD (Computer Aided Design) с открытым исходным кодом. Это надежная система, построенная на Java-платформе Rich Client от Eclipse, полностью основанная на плагинах. Это означает, что он легко расширяется, но также имеет довольно тонкое ядро, которое позволяет вам выбирать нужные функции и легко удалять другие.
Cobalt – это программное обеспечение для параметрического 3D-моделирования для проектирования и разработки продукции, которое легко использовать.
Cobalt – это программное обеспечение для параметрического трехмерного моделирования, предназначенное для проектирования и разработки продукции, которое легко использовать. Оно предлагает каркасное, твердотельное и поверхностное моделирование с точными чертежами, визуализацией и анимацией.
Что в этом списке?
С помощью пользователей мы собираем каталог похожих друг на друга программ, чтобы вы могли подобрать альтернативу и скачать их. На сайте можно скачать популярные программы для Windows, Mac Os, Android и iPhone
Run SOLIDWORKS on a Mac
We are often asked if it is possible to run SOLIDWORKS on a Mac computer – the answer is YES you can! Watch our video summary to find out how.
We know quite a few users running SOLIDWORKS successfully on a Mac, and SOLIDWORKS recently updated their system requirements to include virtualisation such as parallels. However, the limit of this support is that although it will install, it may not run well as Macs rarely have supported graphics cards.
We therefore would NOT recommend this setup above a Windows based professional workstation.
Although SOLIDWORKS will run on OS X there are some major considerations to be aware of. SOLIDWORKS cannot run directly on macOS, so first you will need to install Windows on your Mac using an application such as Boot Camp or Parallels. There are other considerations such as graphics performance and the applications you are using SOLIDWORKS for. Watch the video above for a guide to this, alternatively, visit the original Solid Solutions article here.
Other SOLIDWORKS Applications for Mac
SOLIDWORKS do develop several other applications that are available for macOS and iOS. This includes eDrawings Viewer for macOS, as well as eDrawings and eDrawings Professional for iOS. DraftSight is also available for macOS as a beta version.
If you're currently using SOLIDWORKS and considering a move to Apple hardware, or if you're currently an Apple user and are considering SOLIDWORKS, we suggest contacting your local reseller (UK and Ireland) to discuss the pros and cons of using SOLIDWORKS on mac OS before making any final decisions.
2 Easy Ways To Run SolidWorks On Mac
There's plenty of excellent CAD software avialable for Mac nowadays but unfortunately SolidWorks for Mac does not exist. However the good news is there are ways to install the PC version of SolidWorks 2016, 2017 & 2018 on macOS.
If you use a virtual machine such as Parallels, you can switch between macOS and Solidworks at anytime seamlessly. Alternatively, you can install SolidWorks using Boot Camp if you don't need access to macOS while you're using SolidWorks.
Here we'll show you both ways and give you a few tips and hints about how to improve the performance of SolidWorks on Mac.
Follow the instructions below to install SolidWorks on a Mac.
1. SolidWorks Installation Checklist
Before you start, you'll need to make sure you have the following.
A copy of SolidWorks 2016, 2017 or 2018.
You'll also need a copy of Windows 7, 8 or 10 (see table below to see which one you need) but we strongly recommend Windows 10. All versions of Solidworks 2016, 2017 and 2018 work with all versions of Windows 7, 8.1 and 10 and you can check out the full system requirements below. We recommend installing Windows 10 on your Mac, especially if you're going to use Parallels, as it automatically installs Windows 10 for you and makes it very easy. Plus Windows 10 is now effectively free to use as Microsoft don't require you to activate it anymore unless you want to customize Windows.

If you don't choose the Boot Camp method, you will need a copy of a virtual environment software such as Parallels which makes it really easy to install Windows on a Mac and run it at the same time as macOS
You've then got two choices as to how to install SolidWorks on your Mac – either by using Boot Camp or by using using a virtual machine. To understand the difference between both, check out our article on the best way to run Windows on Mac.
In a nutshell, Boot Camp is free in macOS but only allows you to run either Windows or OS X at one time. Our recommended virtual machine Parallels isn't free but it allows you to run macOS and Windows at the same time which is far more convenient as you can switch between your Mac and Windows in one click:
Using Parallels means you don't have to restart your Mac when you want to use SolidWorks – you can just switch to macOS as you do when you want to use any other application whereas with Boot Camp you have to shutdown your Mac and restart it in Windows.
Although Boot Camp allows your Mac to devote all of its resources to running SolidWorks (thus in theory giving you smoother performance) both Macs and Parallels have become more powerful in processing speed and RAM size meaning SolidWorks now works almost as well using Parallels as it does using Boot Camp.
2. How To Install SolidWorks on Mac Using Parallels
Here's how to run SolidWorks on Mac using a virtual machine.
The first thing you need to do is follow these instructions to install Windows 10 on Mac for free. Microsoft no longer requires uses to activate Windows 10 with a product key in order to use so the great thing is Windows doesn't cost a cent.
Purchase SolidWorks and install it in Windows. Once installed, start SolidWorks so that it makes a few entries in your Windows Registry and then close it.
There are then a few tweaks you need to make sure that SolidWorks works properly on your Mac. First make sure you are running Windows and then go to the menu at the top of the screen and select Actions > Configure. Make sure that Resource Usage is set to No Limit.
In earlier versions of Parallels running Windows 7, the process is go to Parallels > Virtual Machine > Configure > Options > Optimization and make sure your settings are the same as below:
Then select Graphics and make sure that 3D Acceleration is set to DirectX10 and Vertical Synchronization is selected in Advanced Settings.
In earlier versions of Parallels running Windows 7, go to Parallels > Virtual Machine > Configure > Hardware > Video and make sure your settings are the same as this on Windows 7:
If you're using the latest version of Parallels with Windows 10 instead, you'll find that you can now force Parallels to use multiple core processors which will dramatically improve the performance of SolidWorks on your Mac.
Make sure you select more than one processor. Depending on how much RAM you've got, we recommend allocating at least 4GB of RAM or more to Parallels to ensure Solidworks runs quickly.
Note that macOS requires at least 4GB of RAM to run smoothly so you should make sure that at least 4GB is free otherwise you'll find your Mac runs slow.
Make sure your settings look something like this:
Finally, you need to make these changes in the Windows Registry in order to make OpenGL and RealView work in macOS running SolidWorks on Parallels. You should be good to go after that.
3. How To Install SolidWorks on Mac Using Boot Camp
The installation of SolidWorks using Boot Camp follows the same principle as with Parallels with the main difference being that it installs Windows in a partition on your hard drive.
First you need to install Windows on your Mac using Boot Camp.
You then need to purchase a copy of SolidWorks 2015 or SolidWorks 2016. If you're using an iMac with a SuperDrive then this can be an installation DVD. However, if you're using a MacBook Air or MacBook Pro you'll need a digital download.
To install SolidWorks is then exactly the same as if you were installing it on a PC.
You can also see SolidWorks working very smoothly on a Mac in Windows 8 using Boot Camp here:
For more detailed stats on how fast SolidWorks works on a Mac, check these benchmark figures. If you do a search for "Mac", you'll see the Macs hold-up pretty well against PCs.
4. How To Use RealView & OpenGL In SolidWorks On Mac
You will find that RealView and OpenGL won't work by default on Mac because the graphics cards in Mac are not supported by SolidWorks for these features.
However, you can force SolidWorks to use these features although you'll find that the results aren't always perfect. To enable RealView and OpenGL on Mac using NVIDIA graphics cards, follow these instructions (obviously change the value of "SolidWorks 2015" or "SoliwWorks 2016" to the appropriate version of SolidWorks you are using).
Open the Registry Editor in Windows. To do this, depends on the version of Windows you are using but you can find instructions here.
This enables SolidWorks to adapt to your Mac graphics card better and will minimize some of the graphics cards problems described earlier.
The result is a slightly slower SolidWorks but it will improve stability and give you a more reliable display.
Note: If you install a service pack later on in Windows, you will have to go through the entire Registry Edit process again.
Another tip to make SolidWorks perform better on your Mac is to run Windows in Classic Mode – this will free up resources that are dedicated to running more advanced Windows features to SolidWorks.
To do thus, go to Control Panel in Windows and select Appearance and Personalization. Click Personalization and then Theme. Under Theme select Windows Classic:
This will allow your Mac to devote more resources to running SolidWorks rather than fancy animations and effects in Windows.
5. Fixing Graphics Cards Issues
It's important to be aware that you will experience some performance related issues when running SolidWorks on Mac this way.
This is because Apple does not build Macs with NVIDIA Quadro and ATI FirePro graphics cards for which SolidWorks is designed for.
This means that some features such as Looking Glass and RealView are not officially supported on Mac.
However, there are a few hacks you can use to make RealView and OpenGL work on Mac and we show you how in the installation instructions below.
Nevertheless, you may still experience other little glitches such as items temporarily disappearing when you rotate, zoom and pan such as with dimension text and 3D details missing such as the example below:
If you do experience any performance or installation issues with SolidWorks on Mac, don't expect any support from either Dassault Systems or resellers as it is not officially supported on Mac and the installation is performed at your own risk.
6. When Will SolidWorks Be Available For Mac?
For the moment, these are the best way to run SolidWorks on macOS. The makers of SolidWorks Dassault Systems has outlined its reasons for not making Solidworks for Mac and it basically comes down to a matter of resources and technical limitations.
Dassault Systems does produce software such as eDrawings and DraftSight for Mac and if you just need a SolidWorks viewer for Mac so you can open diagrams, the company has made eDrawings for Mac which allows you to view (but not edit) DWG and DXF files on Mac.
However, the relatively small Mac user base and the complexities of CAD Software such as Solidworks means that the company simply can't justify the investment required to produce a full Mac version of Solidworks.
It was revealed a few years ago that the developer Dassault Systems will eventually release a new version of SolidWorks – SolidWorks Xdesign – which will work on Mac. At the moment however, you can only sign-up for a SolidWorks Xdesign beta invite and there is still no full launch date set as yet.
There is the also interesting OnShape project headed by a former SolidWorks CEO and a group of ex-employees that's aiming to create a online alternative to SolidWorks.
At the moment, the functionality isn't quite on a par with Solidworks but OnShape is developing rapidly and it's quite possible that in a few years, OnCloud will basically be SolidWorks online and be accessible on any platform including Mac.
Early reviews have called OnShape "Google Docs for CAD" due to it's ease of use for a CAD software and cloud based deployment that works on any platform.
Finally, SolidWorks 2018 was launched in September 2017 but there are no plans for a Mac version. You can read more about what's new in SolidWorks 2018 here.
We hope this guide has helped but if you have any questions about running or installing SolidWorks on Mac, let us know in the comments below.
Related
About The Author
MacHow2 is devoted to helping you get the most of of your Mac. We're passionate about all things Mac whether it's helping users with software recommendations or solving technical problems. If you've got any comments about this article, get involved by leaving a comment below. You can also contact us directly using the contact form at the top of the site. Please note that in the interests of transparency, MacHow2 may sometimes receive compensation from link clicks or vendors.
34 Responses
Nice guide!! but I have a 2017 MacBook Pro with touch bar 8gb RAM i5 3.1 ghz and solidworks don't run well…do you know how to help me? I tried to start solidworks on parallels…the program start very well but after a while it crash when I tried to extrude or cut extrude a draw….I don't know what to do…maybe I have to change some different setting on the regedit
Unfortunately using Solidworks in Parallels can be unstable and sometimes due to the graphical demands of the application. Certain actions such as extruding can cause the situation you describe and the best thing to try is installing Windows using Boot Camp instead as described in the article.
Considering SW for a MBP late 2013 15″ i7 2.3ghz 16mb graphics intel iris pro cpu builtin and Nvidia geforce gt 750m pcie with automatic graphics switch supported for both graphics
Should I be considering another software other than SW re noted issues.
Leave a Reply Cancel reply
This site uses Akismet to reduce spam. Learn how your comment data is processed.