Easy Stand Alone 2 Simple & efficient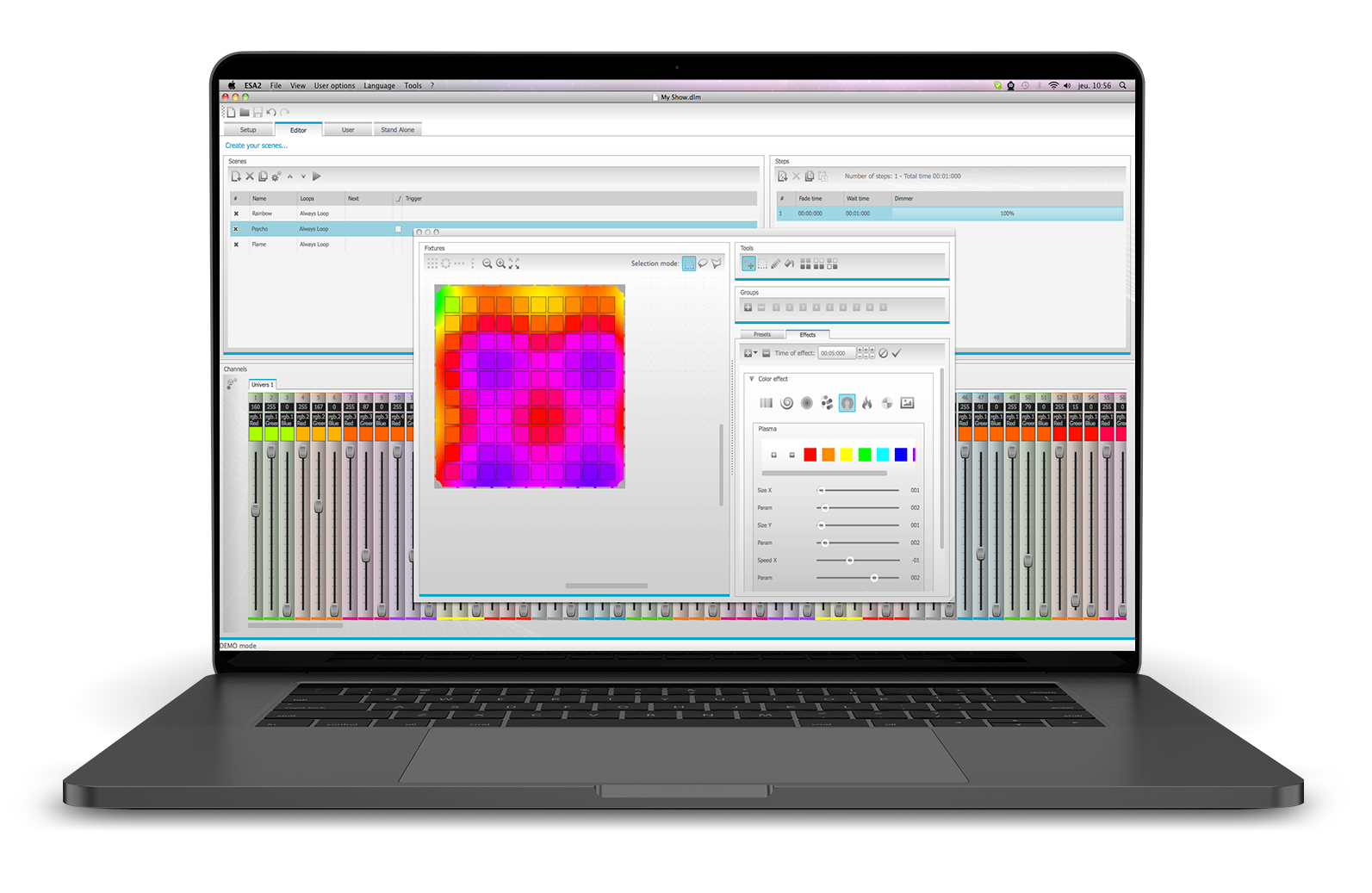 Compatible with both Windows and Mac, Easy Stand Alone 2 software has evolved over the years to become a worldwide reference for architectural lighting control. It only requires a few minutes to setup the software and gain full control of any kind of lighting.
In-depth Особенности
SETUP: insert your lighting fixtures
EDITOR: easily create your scenes
USER: control your lights in live mode
STAND ALONE: write to the interface memory
Scenes
Creating scenes can be carried out very easily. For each scene, the software allows you to determine any number of steps, the number of loops, as well as the following scene.
Faders
The vertical faders at the bottom of your screen correspond to the DMX level (0 to 255) for each channel. There are several ways to modify these levels.
Scene builder
Arrange your lighting fixtures and easily create stunning RGB/RGBW color mixing and moving effects with the new scene builder.
Steps
Each Step has a fade time and a waiting time which can be set. By creating several steps in sequence, you will then build a dynamic scene.
Easy Stand Alone 2 Download
Official | 19/04/2019 | 467.5 Mb

Official | 19/04/2019 | 579.6 Mb

Keep in touch with Nicolaudie Architectural. Subscribe to receive a maximum of 1 email per month
Thank you your email address has been recorded.
You must enter a valid email address.

Copyright Nicolaudie Group 2020
All brands and product names and registered trademarks are the property of their respective owners.
Specifications are subject to change without notice. Errors and omissions excepted. Images and illustrations may not always match contents.
Главная
Продукция

ART NET DMX

ЯRILO LanDMX2
ЯRILO LanDMX4
ЯRILO LanDMX4\1

USB DMX FreeSoftware

ЯRILO Open DMX
ЯRILO DMX PRO

USB DMX Sunlite

ЯRILO SL2
ЯRILO SL2-1024
ЯRILO SL2-1024-WiDMX

USB DMX Daslight

ЯRILO DL4
ЯRILO DL4-1024
ЯRILO DL4-1024-WiDMX

DMX сплиттеры

ЯRILO SPL DIN3
ЯRILO SPL WALL4
ЯRILO TRUSS3 RDM

DMX демультиплексоры

Поддержка
Как купить

Оплата и Доставка
Наши дилеры
Главная
Продукция

ART NET DMX

ЯRILO LanDMX2
ЯRILO LanDMX4
ЯRILO LanDMX4\1

USB DMX FreeSoftware

ЯRILO Open DMX
ЯRILO DMX PRO

USB DMX Sunlite

ЯRILO SL2
ЯRILO SL2-1024
ЯRILO SL2-1024-WiDMX

USB DMX Daslight

ЯRILO DL4
ЯRILO DL4-1024
ЯRILO DL4-1024-WiDMX

DMX сплиттеры

ЯRILO SPL DIN3
ЯRILO SPL WALL4
ЯRILO TRUSS3 RDM

DMX демультиплексоры

Поддержка
Как купить

Оплата и Доставка
Наши дилеры
USB DMX контроллер совместимый с Sunlite Suite 2 с двумя выходами DMX-512 в металлическом корпусе. Определяется как Suite2FC, открывает EasyShow, EasyView. Гальваническая защита.
USB DMX контроллер совместимый с Sunlite Suite 2 с выходом DMX-512 в пластиковом корпусе. Определяется как Suite2FC, открывает EasyShow, EasyView. Гальваническая защита.
USB DMX контроллер совместимый с Freestyler DMX, QLC+ и другими программами. Имеет один выход DMX-512, выполнен в пластиковом корпусе. Гальваническая защита.
USB-DMX контроллер ЯRILO Daslight4 используется для управления световыми приборами и эффектами по протоколу DMX512. Гальваническая защита. Поддержка PC и MacOS.
MacBook и USB DMX контроллер
MacBook и USB DMX контроллер: Какую программу управления светом выбрать и какой контроллер подойдет?
Всем известно, что популярная программа Sunlite Suite 2 имеет версию для Windows. Работа в этой программе на MacBook возможна только, если установлена ОС Windows или виртуальная машина с Windows. Но решение – так себе( Ранее компания ЯRILO Pro предлагала ЛайфХак – запускать на MacOS программу управления архитектурным светом EasyStandAlone2 (ESA2), но с выходом контроллеров под самую последнюю версию Sunlite2 – этот лафхак стал не актуален.
Самое лучшее решение для MacOS – программа Daslight4 и наш контроллер ЯRILO Daslight4. Данная программа имеет версии и для Windows, и MacOS. Daslight4 является родственником Sunlite2, использует одни и те же файлы с патчами приборов (расширение .SSL2), а также имеет приятный интерфейс.
Если Вы используете Windows, но в будущем планируете перейти на MacOS, компания ЯRILO Pro рекомендует обратить внимание на программу Daslight4.
Sunlite Suite 3
More powerful than expensive lighting consoles
Buy from $319
Designed for theater, live shows, sound&light, stage, events, club. Sunlite Suite 3 computerized lighting controller sets the standard for professional dmx512 software. The unique page concept is the famous heart of Sunlite. The new console windows are the central hub for MIDI and WIFI remote. More powerful than many expensive lighting consoles, Sunlite Suite 3 comes with so many tools : Timeline editor, Palettes, Cycles, Easy View, Multimedia cycles, Scanlibrary, Artnet, Audio Analysis.
Daslight 4
It's time to rethink
DMX lighting control
Buy from $199
Take your light show to a whole new level with the brand new DMX lighting software package from Daslight. With Daslight 4, it's time to rethink DMX lighting control. This new generation of DMX software offers the ultimate design, the latest tools and is now available on PC and Mac computers. The new Show mode allows you to build a completely customized screen. Available for iPhone, iPad and Android smartphones and tablets, the free Easy Remote app allows you to control lights over WiFi. Check out our new DVC FUN, DVC4 GOLD, DVC4 GZM and DPAD DMX interfaces today.
Light Rider
The Pro DJ Lighting App
LR512 WiFi-DMX interface now available
Push your light show to the next level with the new DJ app for Android and iPad. Light Rider lets you control your DMX lights without needing to program anything. Choose from over 15,000 lighting fixtures and once added, they will bounce, chase, ride, sparkle and perform a light show like you've never seen before. Built on over 25 years of DMX lighting control experience, Light Rider finally puts a great light show into the hands of a working DJ, who might not have the time to spend hours programming scenes before a show.
SUSHI-DS
The world's most attractive DMX controller
Buy from $39
The new SUSHI-DS at only $39 is the world's most attractive DMX controller. Including a usb dmx interface and 4 popular dmx software packages (Easy Stand Alone 1 + Sunlite 2004 + Daslight 1 + Lumidesk lite) the SUSHI dmx dongle is the best choice for Beginners, Students, Juniors, DJ, Musicians, Small uses and more. You can control any DMX512 compatible fixture with a library of more than 15000 fixture profiles. Additional software, options and upgrades are available at the DmxSoft store.
S.T.I.C.K.
Touch-sensitive Intelligent Control Keypad for architectural
Buy from $399
Ideal for LED, RGB, RGBW or any DMX lighting fixtures, the STICK range has been designed to offer the perfect glass lighting control system for architectural & building (residential or commercial). The Sunlite Touch-sensitive Intelligent Control Keypad has already been established as a new worldwide standard. All in one technology, Stand alone usb dmx512 panel, State of the art design and iOS/Android apps are the keys to its success. Just introducing the STICK-CU4 – a brand new 512 channel DMX lighting controller, priced in the middle of the wall mounted STICK range
Wifi remote control
Easy remote and Lightpad apps
Free with ESA2, SUITE3, DVC4, SLESA-UE7, STICK-DE3
Create an entirely customized remote controller for your tablet or smartphone. Easy Remote is a powerful and intuitive app allowing you to easily add buttons, faders, color wheels and more. The app can communicate with ESA2, SUITE3 and DVC4 software. It's also capable of controlling our Ethernet enabled stand alone controllers. Connect to a WiFi network and the app will find all compatible devices. Available for Android/iPhone/iPad, the app is free to download.
Easy Stand Alone
Control your lights. without any computer!
Buy from $259
With "Easy Stand Alone", easily program your lighting scenarios with your computer, write the memory of the stand alone DMX interfaces, then Control your lights. without a computer. The range includes several usb dmx blue boxes and coming soon – a range of brand new Din-Rail interfaces. The ESA Pro software uses timeline based effects which have been specially designed for multi-zone and SD card memory. The ESA2 software is now compatible with both Microsoft Windows and Apple Mac OSX.
SUSHI-RB only $39
Stand alone usb dmx interface
Program over USB on Android – 12 channels (expandable to 512)
The universal smart handy dmx interface is the new hardware from Arcolis. Write easily the stand alone memory using the included software. At only $39 with 12 channels (expandable to 512), this solution covers many applications in architectural lighting that need a small and inexpensive DMX512 controller. Coming soon: with the 2016 ARCOLIS app (Android only) plug the SUSHI to your mobile via USB and program directly the lights and colors from the touch screen.
Lumidesk
Intuitive live PC-based DMX control software
Buy from $199
Lumidesk is an innovative PC based DMX control software created for users that want a simple and straightforward way to get their fixtures programmed and running quickly and efficiently. While still maintaining full DMX functionality, Lumidesk has managed to emerge as one of the most inexpensive DMX control solutions on the market. An app is also available allowing triggering from a smartphone or tablet. The range includes also architectural interfaces such as wall mounted USB-DMX panels.
Why choose Nicolaudie ?
• Nicolaudie is the inventor and industry leader of the Computerized lighting controller concept.
• In 1987, we designed the world's first computerized lighting controller on Amiga computers with 0-10V outputs
• In 1993, we moved DASLIGHT DMX software to 32-bit PC/Windows Operating system (Windows 95/NT).
• In 1998, we launched the first generation of SUNLITE software called Sunlite NT4.
• In 2001, the sector was revolutionised by our SIUDI Sunlite Intelligent USB-DMX Interface.
• In 2009, we introduced the STICK range with the Sunlite Touch-sensitive Intelligent Control Keypad.
• In 2014, we stormed the market with the $39 SUSHI package using the new Sunlite Universal Smart Handy DMX Interface.
• In 2017, the DJ market was revolutionised by our Light Rider app (iPad and Android tablets).
• A majority of our business is within the architectural industry: stores, restaurants, hotels, bars, monuments, museums, casinos, facades,landscapes, pools, fountains, airports, resorts.
• Any user can controls rgb, rgba, rgbw, cmy, rgbw lights with our led DMX software.
• You can make your building unique, by installing a DMX wall mounted controller.
• Make your pool a party with pool color-changing wall mounted DMX controllers.
• Light up the club with user friendly dj lighting software, designed by Nicolaudie Group.
• Set your stage with theatre lighting control designed by Nicolaudie Dmx Soft.
• The Nicolaudie Group has the best RGB CMY RGBA control system on the market.
• You can show the bride her reception dance floor by using our amazing 3D visualizer.
• You can easily import your complex show with our dmx recorder and decoder.
• With a timeless design, touch sensitive – glass fronted dmx wall panel, Nicolaudie has developed the world's sexiest led controllers.
• Do you want to control dmx with a computer? The SUSHI is the best place to start.
• The computerized lighting control manufacturer Nicolaudie Group, is a leader in creating sophisticated, powerful, and functional lighting controllers.
• Nicolaudie Group is best known for its technologically advanced intelligent control keypads for universal dmx.
• Are you looking for Intelligent lighting control software and hardware for discos, musicians, clubs, events, bars, live shows and more?
• An LED control system, known as the Stick range, is a brand of controllers that are sleek and simply designed.
• The Nicolaudie Group manufactures user friendly hardware and lighting control software.
• Our new Stick CU4 has a direct access to all features, with powerful functionality and an elegant design.
• The vertical faders found in our software, will allow you to modify DMX output and values for any step.
• The Nicolaudie Group offers the most powerful interfaces for intelligent lights, LEDs, dimmers, parcans, lasers, and various other effects.
• By using our professional lighting control systems, you can replace your old lighting desk and console.
• The STICK range is the best wall mount controller for lighting. You can program from one scene or to 500 scenes / scenarios.
• Control your mobile/disco equipment, pan/tilt with a grid, and rgb lamp with the user friendly Daslight DVC3 or DVC4 software.
• Our usb to dmx interfaces are compatible with Mac OS X, Windows and Linux
• Program scenes, palettes, steps and color changes for your led strip lighting and bulb lamps
• Sunlight Suite3 is available in basic, economy and first class. Take advantage of our update program
• We support many well-known industry standards, such as DMX-512, DALI, USB, MIDI, SMPTE, ETHERNET, WIFI, ARTNET, ZIGBEE.
• The effects generator will allow you to create and generate simple movements to complex RGB effects, like Rainbow or RGB Matrix effect.
• Nicolaudie's research and development team has been creating lighting control solutions and color mixing software for almost 30 years.
• ESA2 software is Windows and MacOS compatible, the software can control any usb to DMX blue boxes and Wall mounted glass controllers.
• The SUSHI interface has an open dmx library and sdk developer kit (Devkit) to develop in Delphi, C++, C#, Basic
• Nicolaudie provide lighting control solutions together with lighting professionals and partners around the world.
• All software recently developed by Nicolaudie, now includes the new cross platform effect engine library XEEL, which includes matrix effects and LED mapping.
• The STICK-DE3 is our most powerful interface, which can easily be integrated with most home automation systems for hotel, restaurant, lounge, room.
• With Sunlite Suite 2 and Easy Show – can easily accomplish audio, video and light synchronization
• XEEL is the new powerful effect engine, which has been added to all Nicolaudie software. With XEEL you can easily create powerful matrix effects.
• With the ScanLibrary editor, you are able to create new lighting profiles for the latest fixtures, such as moving heads with Pan/Tilt, Gobo, Color, Prism, Frost, Iris, etc.
• Are you looking for a high performance lighting controller? You will find that Nicolaudie has developed several ranges of software and hardware that has all the right tools.
• With the built in astronomical clock you can control the show from sunlight to sunset, or simply turn on your garden during the night.
• The Stick range is perfect for controlling the lighting color for home applications. Esa pro software uses the timeline concept.
• Nicolaudie software was developed to control all DMX lighting fixtures, from dimmer, simple LEDs, parcans and uplights, to sophisticated moving heads or laser effects.
• Sunlite Suite 2 was developed for show control with the ability to be synchronized with media servers as well.