Classic Shell
Classic Shell™ is free software that improves your productivity, enhances the usability of Windows and empowers you to use the computer the way you like it. The main features are:
Highly customizable start menu with multiple styles and skins
Quick access to recent, frequently-used, or pinned programs
Find programs, settings, files and documents
Start button for Windows 7, Windows 8, Windows 8.1 and Windows 10
Toolbar and status bar for Windows Explorer
Caption and status bar for Internet Explorer
Note: As of December 2017, Classic Shell is no longer in active development. More details here
Development has been picked up by volunteers on GitHub under the name Open Shell
The latest stable version of Classic Shell is 4.3.1
Download translated versions
Download older versions
Download mirror at Mediafire

| | |
| --- | --- |
| | Classic Shell on Facebook |
| | Classic Shell on Sourceforge |
Visit the Classic Shell forum to find custom menu skins and start buttons.
If you are having problems uninstalling or upgrading Classic Shell, please read this forum post.
Dec 3rd, 2017 – Classic Shell is no longer actively developed
After 8 years I have decided to stop developing Classic Shell. The source code for the latest version is released on SourceForge. More details here.
Aug 12th, 2017 – General release 4.3.1 is out
It officially supports the Creators Update for Windows 10. More details here.
Jul 30th, 2016 – General release 4.3.0 is out
It officially supports the Anniversary Update for Windows 10. More details here.
May 22nd, 2016 – Beta version 4.2.7 is out
QFE fix for a crash bug in beta version 4.2.6 that affects 32-bit Windows 10.
May 21st, 2016 – Beta version 4.2.6 is out
It improves support for Windows 10 Redstone, adds taskbar skinning, menu animations, and many new features. More details here.
Choose between 3 different styles:
The Classic Start Menu is compatible with:


Download DisplayFusion from here
Many usability improvements to Explorer (every feature can be turned on or off):
"So happy to find this program. Very well made with lots of options. Makes Windows 7 worth using. Saves me from daily frustration. Thank you so much!" Eric
"Brilliant! No more frustration, I can work just like I used to! Thank you!" Anonymous Donor
Classic Shell works on Windows 7, Windows 8, Windows 8.1, Windows 10 and their server counterparts (Windows Server 2008 R2, Windows Server 2012, Windows Server 2012 R2, Windows Server 2016). Both 32 and 64-bit versions are supported. The same installer works for all versions.
Note: Windows RT is not supported.
Here are some of the people, who made significant contributions to the Classic Shell project:
Winaero
At the edge of tweaking
Add classic personalization Desktop menu in Windows 10
If you are using Windows 10 for a while, you definitely know that the classic Personalization options were removed in one of the pre-release builds. All options to personalize are now there in the Settings app, which is a Metro app designed for touch screen users and has controls which are poorly designed or have limited functionality. If you are not satisfied by this new way to tune up your OS appearance, you might be interested in accessing the classic Control panel applets. Thankfully, it is still possible.
There are different methods to open classic appearance settings.
Using the commands mentioned above, you can create shortcuts and put them on the Desktop or in any other folder on your hard drive. The next time you need to customize the appearance, you can just click the appropriate shortcut.
Create a Desktop context menu which contains the appropriate commands. It will look like this:
This can be done by a simple Registry tweak. I made ready-to-use Registry files for you, so you can download and double click them to get such a menu.
It contains the following commands:
Alternatively, you can use Winaero Tweaker. With one click, you can enable or disable the "Appearance" Desktop context menu.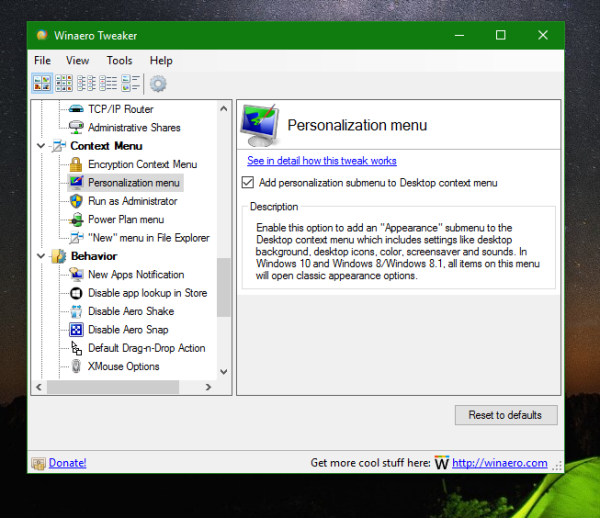 This will save your time and you can avoid manual Registry editing.
Use Personalization Panel for Windows 10. My special freeware app re-invents classic Personalization options with recreated applets which work like the original. The app also supports Desktop context menu integration. Once you start using it, you won't notice much difference compared to the same applets in Windows 7 or Windows 8.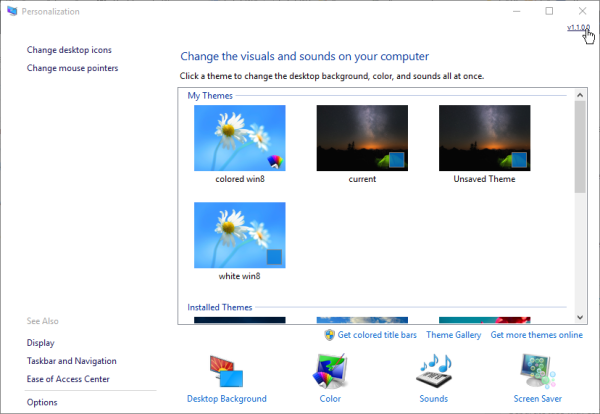 You can decide for yourself which method is most suitable for you. The result will be the same – you will be able to use the classic user interface instead of the Settings app. Please keep in mind that Microsoft continues to eliminate code which belongs to the classic Control Panel. So, some day, the tricks mentioned in this article might stop working. It can happen in some new Windows 10 build or after installing an update to Windows 10.
Which user interface you prefer to personalize the operating system – the new one (Settings app) or the classic UI?
Winaero greatly relies on your support. You can help the site keep bringing you interesting and useful content and software by using these options:
Classic View WIndows 10
How do I enable the classic view or classic shell in windows 10?
I seem to remember reading ahead of time that there would be a way to make windows 10 look and function much more like windows 7 which is why I was looking forward to this upgrade. However I cannot find the controls to do this. Its not in appearance an personalization like it usually is.
Can anyone help me with this?
Replies (23) 
* Please try a lower page number.
* Please enter only numbers.
* Please try a lower page number.
* Please enter only numbers.
Thank you for posting your question on Microsoft Community.
The new Windows 10 operating system is full of small but useful features and enhancements. The one major visible feature of Windows 10 is Start menu, the feature which was missing from Windows 8 and Windows 8.1.
The Start menu in Windows 10 is a bit different from what we have seen and used to the Start menu of Windows 7 or Vista. The Start menu of Windows 10, as you likely know by now, includes elements from the traditional Start menu of Windows 7 and the modern Start screen of Windows 8. Frequently accessed apps and desktop programs appear on the left-side of the menu and the right side space is reserved for app tiles but can be customized by removing or adding tiles.
Search box is located at the bottom left of the Start menu and can be used search with Bing, meaning you can search the web right from the Start menu. An option to turn off this Bing search is available under PC settings, just like in Windows 8.1.
It would be better to post the query in MSDN forum with regards to the Classic View or Classic Shell related issues or information.
Please refer the link below to post query in MSDN forum:
Hope these information helps, please get back to us for future support, we'll be glad to assist you further.