Image management
The enhanced Image Viewer for (Windows/MacOS/Linux) Version 0.96.5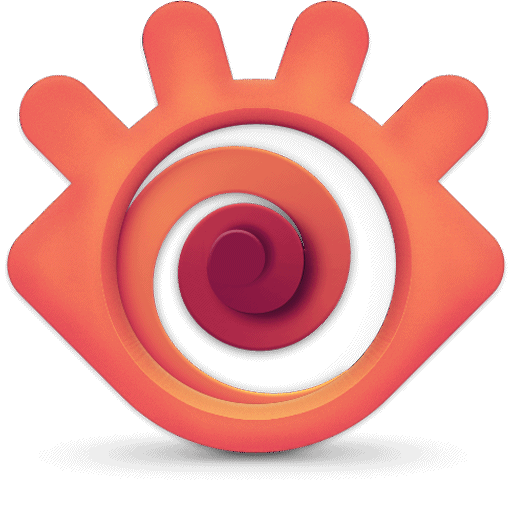 XnView MP is a versatile and powerful photo viewer, image management, image resizer. XnView is one of the most stable, easy-to-use, and comprehensive photo editors. All common picture and graphics formats are supported (JPEG, TIFF, PNG, GIF, WEBP, PSD, JPEG2000, OpenEXR, camera RAW, HEIC, PDF, DNG, CR2).
Features
With XnView you can browse, organize, and view your images in numerous ways:
Thumbnail View
FullScreen View
FilmStrip View
SlideShow with FX
Image Compare
EXIF, IPTC, XMP metadata supported
XnView allows you to process your images with an arsenal of editing tools:
Resize, Rotate, Crop
Lossless Rotate & Crop (jpeg)
Adjust Brightness, Contrast, .
Auto Levels, Auto Contrast
Modify Colors depth & palette
Apply filters & Effects
XnView MP supports more than 500 image formats (including Multipage and animated still formats APNG, TIFF, GIF, ICO, etc..) and export to about 70 different file formats.
XnView MP comes with an easy to use yet powerful batch conversion module. This same module also powers XnConvert
Virtually all of standard XnView's much loved features have been preserved in XnView MP and many features have actually been tweaked and enhanced.
Compared to XnView Classic
Considerable improvements have been made in terms of performance (speed-optimized loading, improved caching, multi-core processing, 64bits version, etc. )
Windows, MacOS and Linux are now supported in both 32 and 64 bit versions
XnView MP offers Unicode support. Enhanced translations for many languages as well as a brand new and convenient modular interface.
Screenshots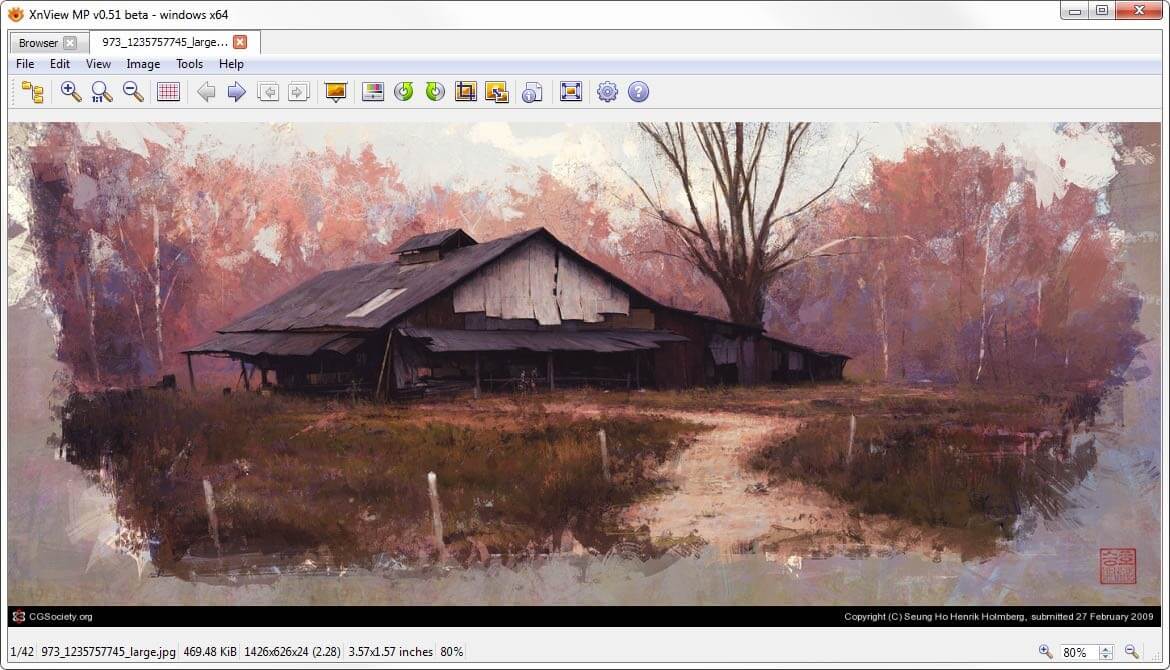 Downloads
Purchase Details –> If you intend to use XnView in a company, you must purchase a license.
Download XnView MP 0.96.5 :
Installer for Windows:
or just download the zipped program folder
Download the application
Deb package or tgz archive
Linux DEB 32-bit Linux DEB 64-bit Linux Appimage 64bit Linux TGZ 32bit Linux TGZ 64bit
Changelog
Use file date if no exif date setting (useFileDateWhenNoExif in xnview.ini)
Browse categories result in fullscreen not possible
Non image files not shown in browser
'Edit IPTC' doesn't write fields
Sort by EXIF date modified
SQLite 3.29.0
Offset tool
Unsharp Mask
Webp: Presets
Use Windows HEIC WIC decoder/encoder
JPEG-XR export does not work
Batch convert: Reorder items
Automatic crop: edges selection
DDS Bcn compression
Libjpeg 2.0.3
Template – part of text
Transfer: Copy data to Metadata
'Go to x,y location'
XIM format – read support
RAW color matrix setting
Similar: 'only folder' setting
Canvas resize: position matrix
Print selection
Setting to start with always same size
Filter: 'Apply' to validate current filter
Edit IPTC: double click to add History item
Edit IPTC: open lastest tab setting
Folder always sorted alphabetically setting
Edit IPTC: in view mode, write added
Desaturate
Curves: Buttons instead combobox
Contact Sheet: Background image
Custom params for toolbar's command
Quick search in description
Slideshow: in .sld, you can add folder (must ends with '\' or '/')
Load slideshow .sld from XnView Classic
Create new image
Batch Convert: Output path
webP & metadata settings
Categories added on TIFF
PAM CMYK1682: [Bug] Replace color
Batch Convert: ICC not kept for PNG
Non image files displayed before filtering
BMP
Catalog – rebuild thumbnails dead lock
PSD fix alpha channel setting
"return to browser" in fullscreen
Resize IPTC dialog
Companion files not copied/moved with Copy/Move to
Category search pane
Browser: EXIF rotation (field) doesn't update timestamp
Change color depth & background color
Catalog relocate
'Match all' + rating + categories
Random quick slideshow shows at most
32,000 images
Wrong focus after returning from fullscreen
Edit mode: File size displayed after rename
Fusion dark theme & detail view
Fusion dark theme
Batch convert: Use CPU Core's – limited to last used setting
Maximized to Fullscreen
Edit IPTC: 'Write' & 'don't load fields'
Search: mixing base path and parent folder
Not possible to change shortcut for capture/import clipboard/scan
Switching printers lets XNView MP ignore margin settings
Batch rename: Not possible to use arrow to select item
File listing: Invalid field name with date
Compare: Thumbnails not always refreshed at startup
System context menu on folder tree & DPI
Background color of Category Sets & Actions with Dark Fusion theme
'Show all files (recursive)" in menu
Batch conversion uses disabled checkbox setting
Rename folder not possible if browsed before
Resize image/canvas presets ignore 'keep ratio' setting
Windows: Unable to paste on root drive
MacOSX: Multiple instance not possible
Problem when renaming/moving files with unicode in catalog
WebP: target file size not used
Capture: XnView window must not be restored after a capture (multiple capture)
PSD: IPTC no correctly written
Batch Convert: Resize – Longest/shortest & percent
TIFF
Custom labels & validation
Replace dialog: filesize is missing
PSD: Error when writing metadata
Can't save 1bit into webp
Compare: Tabs
Canvas Resize: Background color not saved
Compare: color labels
Missing time total/elapsed for video playing
Video thumbnail creation locks
Clipboard at exit
Search: not using sidecar
Registry not correctly detected
Slow GIF playback
format
Import&Sort: EXIF date always used in filename template
Crash
Batch convert + "Use CPU Cores" very slow to start with 30,000 images
Height ignored when resize 'fill' & keep ratio off
Canvas resize – Relative – 'mm' doesn't work
Crash in curve
CVE-2019-12151
Remote files must not be added to recent files
Filter with rating AND color label doesnt work
Categories partly updated after 'Edit IPTC'
Batch convert: Hot folders without auto processing
Batch convert: Preview not updated
Thumbnail for FLV not created
Paste clipboard problems
SPACE can't be assigned
Folder thumbnail not created in the right order
If thumbnail for video is disabled, slow when checking files
Crash on rotate 180 on binary image (w=1305)
8bits+transparency => 32bits problem
Rename overwrite file if exist (usb key)
Dead lock on ppt
No icon for .url
iThmb format
Jxr Half
Import categories from Windows Live Fotogallery
Print only first page
HEIC on Mac
Stars on preview don't change rating
Error reading TGA 16bits RLE
Exit Artist shown on NEF file
Prev/Next not working with two or more opened tabs
Problem to move video files
Fullscreen view mode – Focus on image lost after edit
Contact Sheet: Folder not restored
SPACE key settings
WebP 32bits & metadata
XCF (floating pixel) crash
Linux move to trash
Windows Save dialog, Most used formats no more at top
Space key for next picture
'Add selection to Favorites'
After 'save as', use output filename setting
Format option button in save dialog (Windows only)
SHIFT/CTRL to constraint drawing line horizontally/vertically
ScrollbarValue setting
Selection grid setting
[General/scanDone] to close or not TWAIN dialog after scan
Import&Sort: Video subfolder
Batch Processing running on multiple cores
WEBP EXIF/XMP support
OpenJPEG updated
WEBP updated
Settings to choose color label
Ratio always > 0, settings added
-clipaste
IPTC dialog: Crash 'insert from' in Edit mode
Capture (rectangle) with hotkey returns desktop
Batch convert: Description not used in 'Add Text'
Slideshow: Audio file not loaded from .sld
Import&Sort: Image with no EXIF date are not imported
Batch Convert: 'Keep structure' & 'Keep parent' can't convert on same root partition
Resize presets not correctly saved/restored
Crash when renaming folder in folder tree
Batch convert: Delete icon not enabled after saving script
Batch convert: Small/Large thumbnails setting not restored
XnConvert: 'Delete original' setting not saved
ICNS with JPEG2000 icon
Seek video by clicking on time slider bar
XCF 2.10
Curves: Area to move control point too small
key navigation disabled after crop
Paint: Text not saved
Contact Sheet: no top margin
Print custom size
Linux move to trash
Freeze when creating thumbnail for small video files
DPX 8bits load/save
Language mix in dialogs
Batch Convert Drag&Drop does not work when listview is enabled
Open a PDF can show an error
Can't drag in browser mode if there are marked files
XCF dead lock
Context menu must not be shown on folder in favorite
Dead lock on mpa/m4a files
Problem with icons generation, settings added (was causing some crash on older QT)
Problems when searching with 'base path'
MacOSX: UI problem with video files
IPTC keywords sorted in details view
.lnk can't be viewed
Batch Rename: same name but different extension
Arrow keys not working in list view
Slideshow: use transition not checked after loading .sld
Batch convert: Clear input file don't work anymore
Slideshow crash
Searching by Image Width and Image Height Returns 0 Results
Batch Convert: 'Source folder' not selected after load .xbs
Load & save image with ICC profile doesn't change icc (sRGB)
Bad decoding of embedded comment
Crash when renaming Favorites